Our Floor Cleaning Machine Repairs: We Make It Easy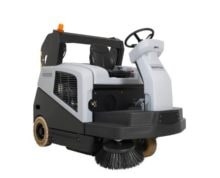 Now you own a floor cleaning machine, what happens next? You need to make sure the machine's expertise is maintained long-term: for both your floor's quality and your own peace of mind. At CL Floorcare, we've got you covered. Our floor cleaning machine repairs are of the best standard you could hope for. No questions asked.
Why Us?
At CL Floorcare our standards are extremely high. We believe in providing our customers with an extensive range of floor cleaning machines to choose from. All of our products are designed with the customer's ease and time management in mind.
Some of our professional product ranges include floor sweepers, pressure washers and scrubber dryers. Our floor sweeper range, including both walk-behind and ride-on sweepers, prevents the time-consuming labour of manual sweeping. Whether it's a factory or a car park, we want to save you time and effort.
We even have a collection of combination machines to keep things simple – and don't worry about external areas: we stock a variety of outdoor cleaning machines to combat tough outside surfaces.
We're Prepared
We know that machines wear down over time and machine parts get lost. Despite the extensive measures we have taken to protect our high-quality machines from these issues, unfortunately at some point they are bound to happen. A breakdown of just one machine can lead to a tremendous delay in an industrial operation, causing unneeded stress and hardship for all involved. But we've planned ahead.
Our industrial floor cleaning machine repairs service is forward-thinking. As soon as an issue is raised, our floor cleaning machine technicians are here to help you. Our technicians know how to troubleshoot common problems to make your life easier. We also have a collection of spare parts and accessories for your floor cleaning machine, so we're always one step ahead.
Here to Save You Money
We also believe in designing the most cost-effective solutions for our customers' benefit. The stress of a machine breakage or breakdown is enough, without the added sky-high prices to get it back up and running. We understand our floor cleaning machines are a life investment, so we assure you that our cost-effective repairs service by no means sacrifices our professional engineering.
Never A Stressful Moment
We won't leave you hanging. Our floor cleaning machine engineer team are always available to aid when assistance is required. Especially our industrial carpet cleaner servicing and industrial carpet cleaner repairs team, who are on standby in case anything goes wrong, at all times.
If you require our expert floor cleaning machine repair facilities, please contact CL Floorcare either by phone on 01782 749451 or send an email to sales@clfloorcare.co.uk and we will tailor to your individual machine's needs.