Burnishers for Hire
Every floor deserves to be cleaned with the best equipment available. Consequently, C L Floor Care has a comprehensive range of burnishers for hire to enable you to do just that.
Therefore, no matter if your floor surface is concrete, ceramic, wood, PVC we believe we stock the best equipment. To get the right burnisher hired for the job to leave floors with a high gloss finish or even restore the surface of your floor, get in touch.
Call our machine hire team on 01782 749451 with any enquiries or email us.
Maintenance Engineers
Remember we do no not just hire equipment, a team of professional fully experienced engineers are available to support and offer advice on using your own equipment. Moreover, we have a comprehensive proactive service agreements. Therefore, this helps us to ensure that you get the most from cleaning equipment, whilst keeping down time to a minimum.
Burnishers for Hire or Sales?
If you prefer, our fully experienced and knowledgeable sales team are also available to offer advice when you need to buy a new Burnisher. Moreover, we are dealers for Nilfisk and Karcher but are also an independent company. Therefore, we can independently help you to choose the best machine for your requirements.
Why choose to use C L Floor Care
We know it's a major decision who and where to hire a burnisher. That's why, choosing to use C L Floor Care for your commercial and industrial floor cleaning equipment hire has always been important to us to. Starting our family business in 2007, our aim has always been to supply the highest quality innovative service possible. Understanding the importance of cost, our aim is to make sure that prices are as competitive as possible.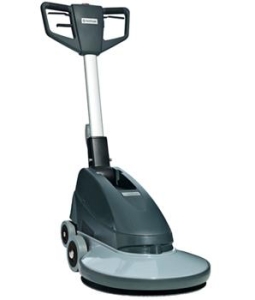 Range of Floor Burnishers for Hire
There are two important decisions when considering hiring a floor burnisher. Firstly, is to decide the most suitable machine for your task. For example, consider the suitability of a machine to do the job. This ensures that you will have a machine able to deliver the best result with the least effort. Therefore, we have an extensive range of machines available with a choice of pads. We'll help you choose the right option to achieve the best results for your work environment.
Our range of burnishers for hire fits into 3 categories:
Cabled machines that are ideal for small areas.
Battery powered walk-behinds that are ideal for slightly larger areas or where a power supply is difficult.
Ride-on machines for those larger areas.
There are three versions of the machine to suit any requirements. The low-speed version is ideal for wet applications. The high speed which is ideal for polishing and a dual speed that is designed for both tasks. The machines are all easy to use and no specialist training is needed.