Single Disc Machine Hire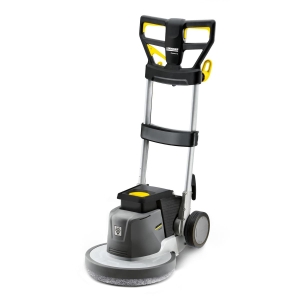 At CL Floorcare, we're experts in industrial cleaning and recognise the range of needs of all our clients. So when it comes to cleaning floors, single disc machine hire options are worth considering. Our range of single disc machines offer you different possibilities depending on your requirements. For example, the surface area you need to clean, the finish you want, and your budget. We always strive to find the ideal solution for your industrial cleaning needs.
Why a single disc machine rental?
Single disc machine rental are a great option for industrial floor cleaning, as they are easy to use and very powerful. They are most effective on smooth floors. We offer low speed, high speed, and dual speed single disc machines. Moreover, we'll help you choose, depending on whether you need to wet or polish the surface, or both. We also offer cable, battery operated, and ride-on options, depending on the size of the surface you wish to clean.
We have some of the leading brands available for hire, like Nilfisk and Karcher. Each brand has a range of models on offer, including the variations mentioned above with different speeds and operating mechanisms.
Hiring a single disc machine from CL Floorcare is a cost effective option. The machines are expensive to purchase, so hiring one for the time period you need it can save a lot of money. Single disc machines are available for hire from as little as a week. Furthermore, CL Floorcare is available for servicing and single disc machine repairs in the unlikely event that you experience problems with the machine during the rental period.
Why Use CL Floorcare?
CL Floorcare is a family run business with expertise in cleaning machines. Our in-depth knowledge of this industry means someone is always on hand to provide advice or assistance. We also have the advantage of certified and experienced engineers on our team, meaning you can rest assured that machines from CL Floorcare will run smoothly and efficiently.
I'm interested! What now?
If you think CL Floorcare can offer the solution for your single disc machine needs, don't hesitate to get in touch by phone on 01782 749451 or via email. A knowledgeable member of our team will discuss your needs with you and will be able to offer the best solution at the best prices.