Industrial Floor Scrubber Hire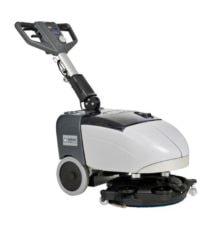 There is a wide array of options for your industrial floor scrubber hire. The scrubber dryers are perfect for bringing your industrial floor cleaning to perfection. With fast floor cleaning, it will ensure that you have spotless results each time. A hired floor scrubber is economical and you will receive full training and servicing after you get the scrubber dryer rental.
Keep Your Business Clean with Minimal Disruption
Whether you need to clean a supermarket, hospital, hotel, or a warehouse, it can be hard to keep the floors clean without causing disruptions to the business. After all, you cannot afford to close the business as you wait for the floors to dry. If you want to keep the floors clean but with little disruption, you need to an industrial floor scrubber dryer hire.
The scrubber dryer rental will clean the floors while drying them at the same time. As a result, the cleaning crew does not have to spend hours cleaning the floors with a mop and bucket and causing huge delays in the opening hours. A scrubber dryer cleans up spills, removes stains, and leaves the floors looking their best.
Hire a Scrubber Dryer
The cost of buying a scrubber dryer is usually the main obstacle to getting these awesome devices. With each machine costing thousands, buying one can seem like it makes little economic sense. Thus, the scrubber hire service is so important. Whether you need the machine for a few days or for the long terms, we have a full range of options from which you can pick.
Ride On Scrubber Dryers
For a small floor space, a walk behind scrubber dryer works fine. However, if the floor space is as huge as a mega warehouse, a ride on scrubber dryer might be the best option. There is a wide array of machines for you.
We serve a wide array of customers that include schools, hospitals, and many others. No matter what type of machine you need, be sure that you will find it here. We have an experienced team of experts that ensure all machines run smoothly at all times. All the machines have been thoroughly tested, including the recommended detergents, to ensure you get the best possible service each time you hire a machine.
The scrubbers work on various services including painted concrete, hardwood, and even ceramic floors. No matter how tough the stains look, our machines can deal with it.