Modern pressure washers are highly reliable and they are able to tackle even the most challenging of cleaning tasks.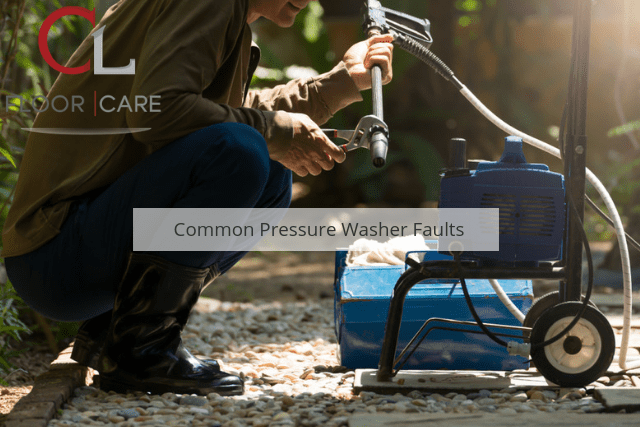 Common Pressure Washer Faults
Still, these machines can and will suffer from mechanical issues on occasion. In order to properly address the concept of targeted pressure washer repair services, it is important to appreciate some of the faults that may take place from time to time. Let us briefly examine a handful of common scenarios.
Fluctuating Pressure Levels
There may be instances when the pressure suddenly and violently fluctuates from high to low. This is most likely the result of a faulty pump or clogged inlet valves. While pumps might need to be replaced, it is possible to check if the inlet valves are blocked by any debris.
Pressure that Suddenly Spikes
It is not uncommon for the pressure to spike for no apparent reason. In this situation, the chances are high that you are dealing with an incorrectly calibrated unloading valve. Once the machine has been deactivated and the pressure released by squeezing the handle of the gun, it is best to adjust the input of this valve as per the owner's manual.
Low or no Pressure
Assuming that the engine is supplying power to the unit, the cause of a loss of pressure or no pressure whatsoever can be narrowed down to either a damaged unloading pump or a broken inlet valve. It is best to disassemble the machine in order to check for any mechanical wear and to replace an affected parts.
Water Leaks
It can be argued that a leaky pressure washer is the most common occurrence and diagnosing the problem involves finding the source of the leak. Seals might be cracked or worn.
The bolts surrounding the pump assembly may have become loose over time. However, the thermal regulation valve could have been inadvertently activated. In this case, turn the machine off and wait for five minutes until the valve resets. Assuming that the pressure washer cools down properly, the valve will open.
It is always best to address these problems at an early stage, as they could otherwise become more serious if allowed to progress. This is also why our floor cleaner servicing experts are here to help.
Please do not hesitate to contact one of our representatives to obtain a correct diagnosis and to correct any fault from the very start. You can also find useful information on our C L Floorcare website.