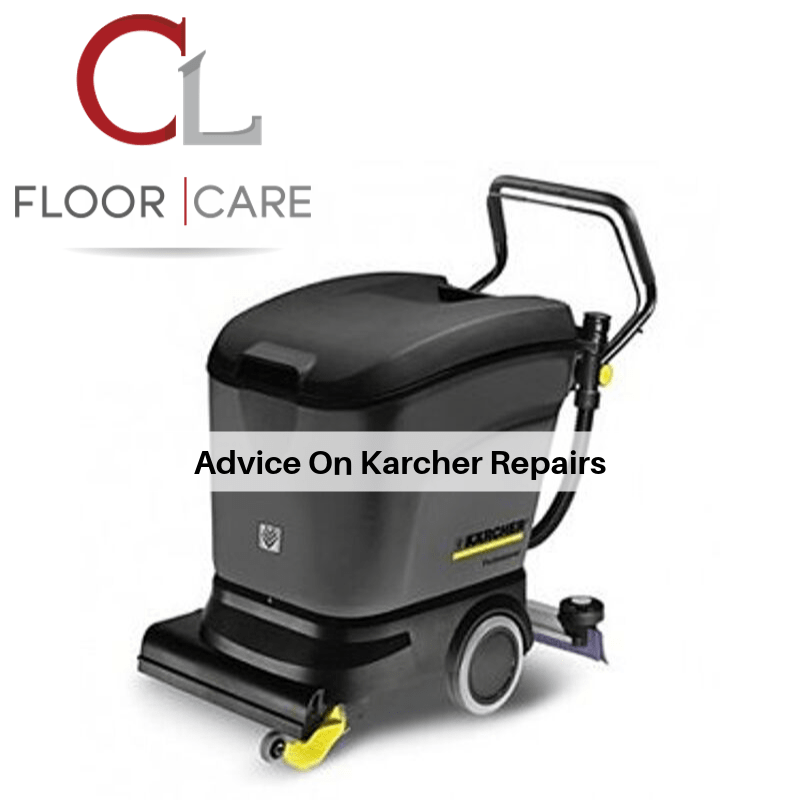 Don't throw away your broken down Karcher floor cleaning machines just yet. Or perhaps you're wondering if a Karcher pressure washer repair will bring your pressure washer back to life. Read on, for Karcher repairs advice available right here. CL Floorcare are ready to help and could save you money.
Karcher Repairs and Maintenance
Here's our 4 top tips to save you money with our Karcher repair advice. Afterall, working with a broken down tool isn't much fun and it's frustrating.
No more stress!
There's good news, as we offer the insider's Karcher repairs guide. As a result, we'll bring back your cleaning machine robot back to life. Once again working to a reasonable cleaning capacity.
Take a look! Generate your Repair Schedule for your Karcher repair. But why?
Avoid inconvenient and unnecessary breakdowns
Efficiency by getting the job done well and quicker
Safety, withstand long hours of operation without shutting off
Plus, constant monitoring of your Karcher cleaning machine will pinpoint and correct any upcoming issues, before they the cause you problems. Consequently, keeping your Karcher machine in tip top condition, means you can get on with performing cleaning professionally.
Check On the Exhaust Systems
The spark arrestor in your robot needs a regular service. This gadget is located beneath the muffler.
To ensure it is carefully serviced, you must disconnect the spark plug correctly. Firstly, use a proper wrench to disconnect the plug from the engine. Secondly, carefully wipe away all the dirt that has built up. 
It's important to recognise if the plug has holes. If so, consider replacing the plug before it malfunctions. If it is okay, carefully secure it back into its position.
Check the Hose If There Is Less Pressure
Does your robot lack tension during the repair? There could be a kink, leak in the tube or blockage. Don't forget to check if the water supply is fully turned on. Also, check on the manual to confirm the amount of water needed for sourcing.
Commonly, the debris inside the water filter, the nozzles and the gun often cause loss of pressure. Ensure you clean these parts and check if the issue is fixed.
Scrutinise the Extension Cable
Is your washing machine cutting out? If yes, then the problem is on the electric extension cable. The electrical cable must not be longer than 13 metres and should supply the robot with a constant 13 amp.
Final Thought
A broken down Karcher is undoubtedly stressful. It is annoying. However, these tips will help you do a thorough service to your robot and end up with the best cleaning results.
For all your Karcher repairs and maintenance services, visit the link here for Karcher pressure washer repair. You can also call our repairs specialists on 01782 749451. We always ensure that every penny you spend counts.