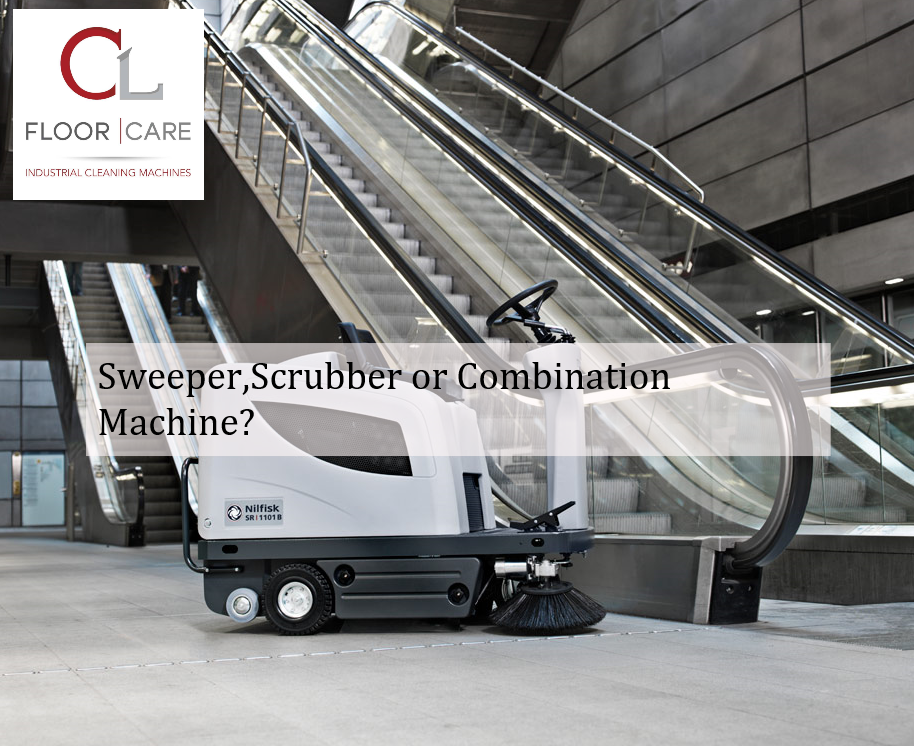 Cleanliness is an essential aspect of maintaining product quality and preserving the health of employees in a commercial facility. Traditional cleaning involved the use of brooms, regular mops and buckets, which was time-consuming and tasking.
Modern floor cleaning introduces the use of industrial sweepers, scrubbers and combination machines, which reduce the labour and time spent on cleaning the floor. With such equipment, you are sure to prevent product contamination and maintain a good image. Most users' dilemma is whether to purchase a sweeper, scrubber or a combination of both cleaning equipment. The machines are expensive hence, the need to choose the right equipment for your needs. Here are a few factors to help you determine whether to purchase a scrubber, sweeper or a combination machine.
Difference between Sweepers, Scrubbers and Combination Machines
Understanding the difference between the three equipment helps determine the type of machine to purchase for your cleaning needs. CL Floorcare Company professionals have a vast experience in the sale, hire, servicing and maintenance of the cleaning equipment and so, they can advise you on the best equipment to use for cleaning your facility.
A sweeper is an industrial vacuum cleaner for removing dirt and debris. It is used in warehouses and manufacturing plants that generate a lot of dust during production processes. Industrial floor sweepers are different from regular sweepers as they remove dirt entirely from the facility.
Scrubbers, on the other hand, are fitted with scrubbing pads to remove grime and grit on floor surfaces. Operating a scrubber is more labour intensive hence, ideal for cleaning food manufacturing plants where grease and oil are likely to buildup.
At CL Floorcare, you will also find sweeper-scrubber combo machines, which are great for cleaning small and large facilities alike. They help maximise machine-in-use time when cleaning smaller facilities where one person is performing all the cleaning tasks. It also reduces maintenance costs by 50% because one person and one machine handle the sweeping and scrubbing functions.
The Type of Floor
The different types of floor surfaces require various floor cleaning equipment. This is because the floor characteristics determine the capacity, capabilities and other features of the cleaning equipment you purchase. Hard concrete floors are maintained better using combination equipment and scrubbers as they have deep cleaning capabilities and remove tough stains. Industrial floor sweepers can be used to clean delicate floor surfaces.
The Type of Debris
It is crucial to determine the type of debris you want to clean when selecting the ideal cleaning equipment. Sweepers are suitable for removing light and bulky debris while scrubbers are excellent for removal of oil and floor marks. Sweeper-scrubber combination machines are suitable for collective debris and grease removal.