Scrubber dryers are an important piece of equipment used by many industrial buildings across the country. When the time comes to replace your existing scrubber dryer, there are some important points you need to consider.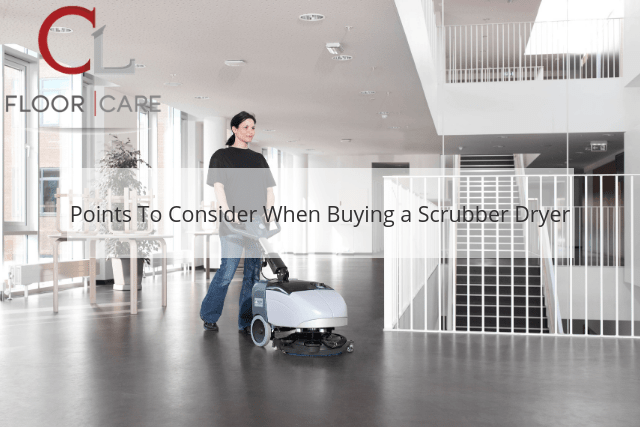 Cost
We all love a bargain and the same applies when finding the right industrial cleaning machinery for the right price. It is always best to have a browse around at various websites or even make a few phone calls to weigh up your options and gather more information. You can find more information at C L Floorcare to guide you in the right direction.
Reliability
If it's a more expensive machine you are looking for then you need to ensure the machine is known for its reliability e.g Nilfisk or Karcher. Nobody wants to be spending more money on maintenance shortly down the line. So, making sure you have your new machine serviced regularly is a must you can find more info on our cleaning machine servicing page.
Application
Application is the key. You want to make sure that the scrubber dryer fits the requirements of what you want it to do. Therefore, it is a good idea to list what you need your machine to do. Consider the size of the surface area which will be cleaned on a regular basis. If the area is large you may want to consider a ride on scrubber dryer opposed to a walk behind scrubber dryer. Also, think about the people who will be using it, are they able to control the machine? Get suppliers to visit site to give you more info / advice.
Summary
Buying a scrubber dryer is no different than buying a new car. You want the right product for the best possible price. If you are looking to buy or just require more information on a scrubber dryer, contact us on 01782 749451 and our experts can give you professional and reliable advice or visit us on C L Floorcare.